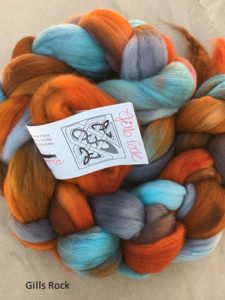 Montana retreat was a blast! I've never taken a formal spinning or fiber class before so it was my first time as a student. I LOVED it! The retreat was a Yarn and Yoga, put on by Kate Larson. It was held at the Boulder Hot Springs resort in Boulder Montana. I flew out of Green Bay to switch planes in Minneapolis and then Minneapolis to Helena. I packed light for the trip as all I needed was yoga clothing and swim suit and my spinning wheel.   The hotel is fantastic, old world charm and great healing vibes. We had access to the outdoor hot spings swimming pool and the indoor plunge and cold water plunge. WOW !!! I found out how I can turn into total mush after a massage session. Oh yea, there are massage therapists on staff and my mother treated me to an hour and a half massage! Thank you Mom!!
The food was great, healthy, organic and wonderfully tasty. I wore slippers all day long and totally got relaxed in the hot springs. Our wonderful Yoga instructor Kelly really did her research on what muscles we needed to work and relax and made the class so nice to be in.
Needless to say, I learned a lot from Kate on spinning the different fibers and why and how to . Each student also created a journal of their spinning fibers with personalized notes and pictures.
I made some new friends at the retreat, and will enjoy seeing how they grow in their spinning also.
What a wonderful way to start off the fall time.
Got home just in time to pack up and head for North Carolina . We do a fiber show there called SAFF. I LOVE this show. My customers come in year after year to show me what project they made with my yarns and I love seeing them.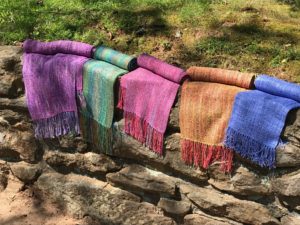 Jim had a good time giving out trick or treat candy to the kids and beaded bracelet kits to the adults. This year we rented a house with friends and enjoyed that too.
Now it's back to work for me, no more shows until February. I've been dyeing up all sorts of yarns and making warp chains and socks. I'll post them in a bit.
We have our kids coming home for Turkey day so I'm getting ready for that too. My little B. likes to get into MiMi's spinning stuff and knitting so I'll put it up outta reach and save me the worrry (and him the temptation) and as my daughter once said, "Happy Birthday Turkey!"