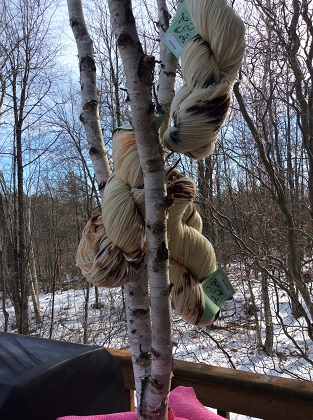 Helllllllloooooo! It was a long month in January due to cold, snow, rain, ice etc…you get the picture. Today the sun is out and life is good again! I have the February Yarn Club boxes already sent out (early), but I also have a few left, so am going to give you all a peek at what they contain.
The Yarn Club yarn of the month this month is our famous Toasty Toes yarn. It is 580 yds. approx. of wonderful soft merino superwash yarn that I have dyed up in a colorway reminiscent of our winter Birch trees that wind thru our woods. They are a smattering of creamy white with brown and black areas that are so attractive to me. I love the Birch Trees that have been photographed in the sun and the different colors of grey and black really stand out.
Next in the box is a handmade ceramic button. This was made for us by a local artist Stuart Van Swol of Windmill Fiber Arts. Stu makes a ton of buttons for me so I'm sharing the love with you all. Another one of my favorite things in the cold winter is hot tea and a swizzle stick to sweeten it up!
The next box is for March. I will be previewing it in a few weeks, but I might give you a peek ahead of time, so get your orders in for the next three boxes if you are not currently in our club. We also will be featuring our Rayon textured yarns and a few luxury yarns that I've found at market.
Oh, did I mention that we have a new grandbaby coming? She will be due in mid June and this gramma is pretty excited. Jim and I will be out in Colorado for Estes Park, but we will high tail it back home after the show to see the new addition. Stay warm, and keep on creating! Hugs and kisses for Valentines Day! xxxooo