Hi everyone! We had some crazy summer, huh?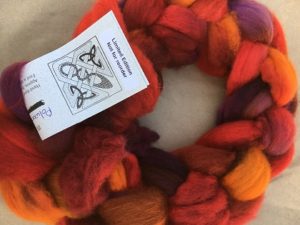 I have to say I am glad it's not so hot and humid now. When it's 90 degrees outside it's unbelievably unbearable in my dye studio. Our new website is up and running and shows you a couple new yarn/items. We have added Hand dyed combed top in Falkland Island Polwarth and a Superwash Merino. Both spin wonderfully and dye vibrant colors. Our roving is available in all of our standard colorways and semi solids just like the yarns.
I'm headed to Boulder HotSprings Montana for a yoga and yarn spinning retreat with Kate Larson teaching! Pretty excited for that adventure you can imagine. I have been making socks again on my antique sock machine, and love the way it cranks out the new Toasty Toes yarn and Tippy Toes yarn.
We also have a few changes coming up this next year, with the biggest one being that Jim will be retiring and joining me in the business more. We would love to add a few shows
Or festivals, and add some trunk shows , with me teaching a few more classes again. Our shops will be able to order on the website now, just email me for your access code.
Happy fall y'all!   Tracey