Tracey Schuh, the talented artist behind Interlacements, creates gorgeous, unique color ways in sumptuous yarns. Lucky for us knitters, she marched to the beat of her own drum. Genius!
Melissa Leapman, Teacher, World Renowned Author
I love Interlacements because of the variety and high quality of their yarns and roving.  They have great customer service.  My favorite thing about Interlacements is that their mouthwatering palette of colors is available in all of their products.  It makes creating an absolute joy!
Helen R., Fiber Enthusiast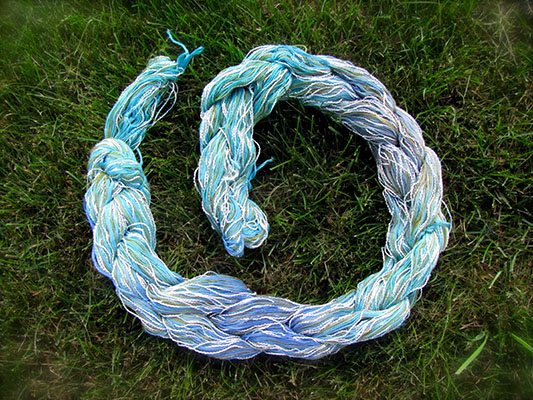 If you have never knitted or woven with Tracey Schuh's yarns at Interlacements, you don't know what you're missing! I have been using them for several years now after seeing her luscious colorways in hand painted wools and rayons. Now I've discovered more possibilities with her linens and other fibers. I began using her hand painted wool for knitted cowls but I am also a weaver who now mostly produces scarves using her rayon Rick Rack and Zig Zag yarns for most of my work. I get amazing feedback on them all. She has solids, semi solids and multi colored strands in varying weights which interlace so stunningly together that with each throw of my shuttle I can watch the magic happen. Weaving with her vibrant colors keeps me visually stimulated through the whole piece! She also does painted pre-wound warps, so no two are ever alike! I love creating truly one-of-a-kind wearables! Not only are her fibers great but so is her service. She fills her orders quickly so my loom is never empty. Thank you, Tracey for building such a vast array of choices and giving advice whenever I ask. You are just THE BEST! (and so is your husband for all the help he provides for you)!!! PS… just don't ask which colors are my favorite because there are too many to name!
Jani Wescott, NC Fiber Artist
You know what a yarn snob I am and I love the colors and textures of your yarns!
Cindy G
My favorite pink yarn ever was your sock yarn.
BeLinda C.