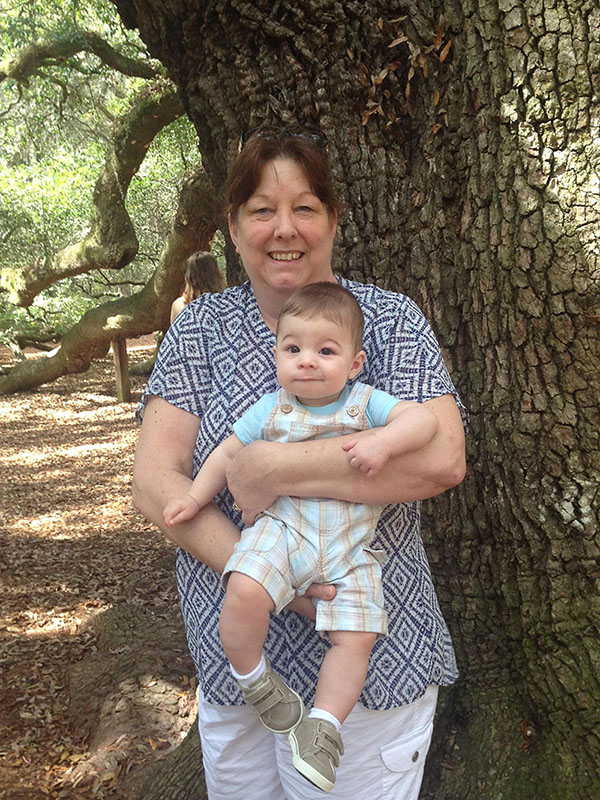 Thanks for visiting our website and giving me an opportunity to tell you about myself and about Interlacements Yarns LLC. I'm Tracey Schuh, an indy dyer of yarn and fibers. My husband, Jim, and I are proud to call ourselves the owners of Interlacements Yarns LLC.  We truly believe, "Any day is a good day to DYE."
Aside from hand-dyeing, my favorite things to do are spinning, weaving on my loom, knitting, and using other techniques to be creative with yarn and fibers.
I have been knitting, spinning, and weaving for approximately 20 years, and I have been dyeing yarn and fibers for 15. I learned to dye from Judy Ditmore, the previous owner of Interlacements Yarns. Jim and I purchased the business in 2010 and moved the business from New Mexico to Wisconsin.
Before opening Interlacements Yarns, I did a little of this (hairdresser) and a little of that (underwriter at an insurance company), but I was never really happy until now. I am happiest when I am in my dye studio up to my armpits in dye with the radio blaring old time rock 'n roll.
I want Interlacements' rayon, wool yarn, and other yarn and fibers to be different than what other dyers produce, so I always look for new and inventive ways to apply dye.
I love playing with the different colors, mixing colors, and trying to create new colors. I guess that's why Interlacements Yarns is known for its bright, clear colorways. The colorways are as bright as the industry has ever seen.
I specialize in dying yarns and fibers in colors that are fun to create with, and I'm speaking from experience. I make 600-800 pairs of wool socks a year, hand-made with my antique Circular Sock Machine (CSM) which dates back to the early 1920s. I sell the socks at fiber arts festivals.
My evenings are spent at my spinning wheel, relaxing to the quiet, steady movement of the treadle.
I enjoy spending time with others interested in weaving, knitting, and spinning. I am an active member of two fiber arts guilds and make frequent visits to the online knitting community, Ravelry.com.
I love teaching classes at fiber arts festivals, so look for my hand-dying workshops and Schacht Cricket Loom demonstrations on the schedule of festivals like the Convergence and Southeastern Animal Fiber Fair (SAFF).
Over the past 20 years, I've learned so much about hand dyeing yarns and fibers. I invite you to visit my online store to see the luxury rayon and wool yarns hand dyed by me, especially for you.
Sincerely,
Tracey Schuh